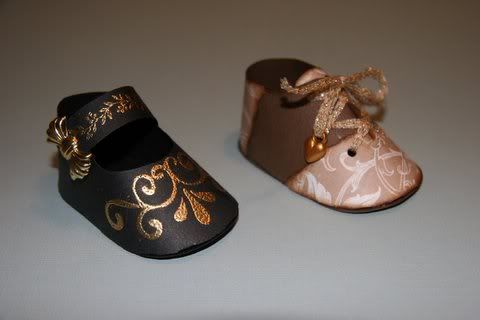 Baby Girl Shoe Template
Baby Boy Shoe Template
Credit to Stampington (Summerset Studio Magazine)
Click here for Fry Box template and instructions
Credit to Creating Keepsakes
Mini Take Out Box
This will hold a fortune cookie, or a nice little gift.
1. Print and enlarge or decrease the template to suit your needs. The template used as-is requires a piece of card stock that is approximately 8 x 8.
2. Cut on solid lines, score on dotted lines. Note the cutting line marked with an "A" on two of the flaps, (these will be used as the closure).
3. Decorate the box using stamps of your choice.
4. Fold along all of the dotted lines. Fold and glue the gussets (marked as "C") on the outside of sides "B."
5. Link the half ovals to close the box. (You can link them so that the oval is either in front or behind—try it both ways to see what you like.)
Credit to Mirkwood